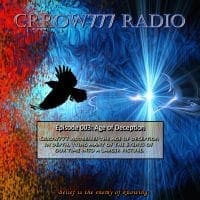 Age of deception – the big picture
In this episode Crrow777 addresses the age of deception – our current age.
In an effort to create a big picture of current events, Crow delves into
many topics tying them all together. We live in an age of deception and
each of us is playing a role in the outcome. Stand and be counted.
Subscribe to Crrow777's Free RSS Feed
Download Episode Cover Image